Houdini Slots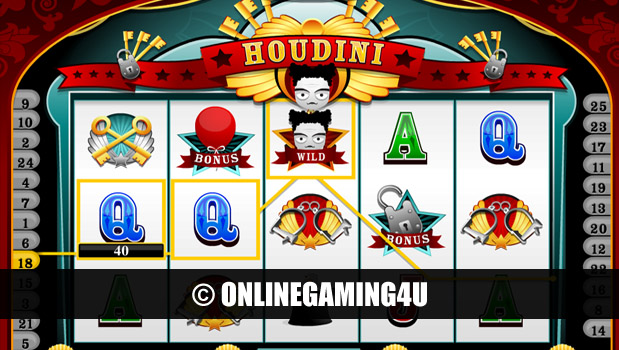 Info
Houdini slots is a fun-look cool 5 reel 25 line slot machine game and features the king of escapism – Houdini!
The reel symbols are a mix of Jacks, Kings, Queens and Aces combined with other chic icons and Houdini style bonus symbols. There are 3 main bonus rounds with Houdini slots and the chance to win some big cash prizes along with having fun at the same time and keeping the exciting atmosphere going throughout each round. Houdini Slots is a unique slot machine with plenty of options to suit every budget. Play from as little as 1p! It is a personal favourite of ours because it is fun to play, features some great cash prizes, has exciting bonus rounds and of course famous for featuring the legend himself – Houdini.
Houdinis great escapes in this game include the Chinese Water Torture Cell, The Suspended Straight Jacket Escape and The Buried Alive Escape.
The graphics in this slot are cartoon-like which gives a fun, lively atmosphere and builds excitement as you play your way to some serious cash prizes. Pressing SPIN will cause the bet to be placed for the chosen coin size and number of lines selected and the reels will be spun. If you press BET MAX it will cause the bet to be placed for the selected coin size and the maximum number of lines, and the game will start. Each spin is completely random and independent. It is not affected by previous spins on Houdini Slots or the start position of the reels. Each reel is independent and is not affected by any other reel.
Where to play