Britain's Got Talent Slots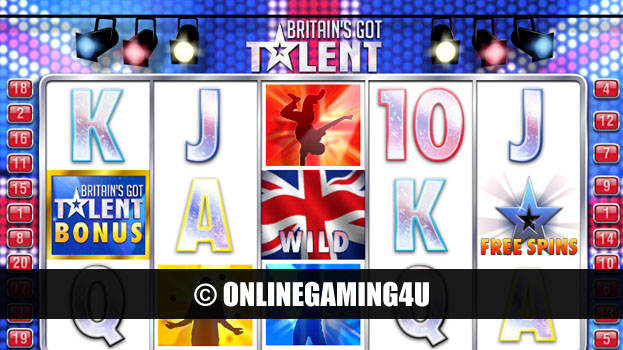 Britain's Got Talent Slots is a 5-Reel, 20-line slot machine game based on the award winning TV show in Britain.
The game features unique and exciting graphics and icons based on the theme of the show and allows you to pick from different talents such as dancing or singing, to take one of 24 classic acts into the "Live Show Bonus".
The main aim of Britain's Got Talent Slots is to match the combinations on the pay table with winning lines by spinning the reels with a view to reach the bonus round and earn even more money.
The "Live Show Bonus" is activated by the bonus symbol located on reels 1, 3 and 5.
Before the bonus starts, you will be asked to choose a type of talent act, which you will take through the whole bonus round. There are three main choices: musical, dance and novelty.
Each category contains 8 contestants.
Once you have chosen your category you will be presented with a wheel featuring characters from that category.
Spin the wheel and whatever it lands on will be your contestant through the bonus round.
The game features free spins that are triggered by the appearance of the "Free Spin" symbol anywhere on reels 2, 4 and 5.