Marvel Roulette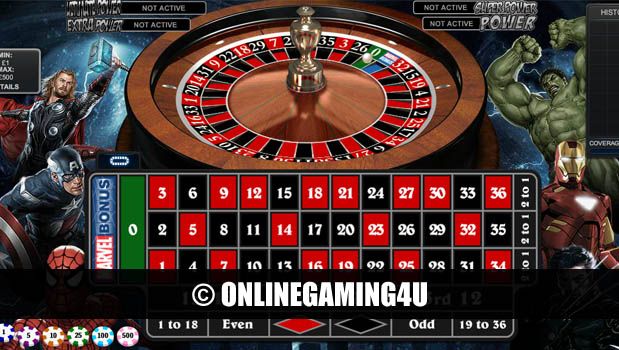 Marvel roulette is a themed online roulette game with a twist offering an exciting superhero spin on the classic roulette wheel with added bonus features.
This fantastic themed roulette game brings together a touch of childhood with extra man-points in the form of superhero roulette.
The game keeps the core aspect of the classic in place as players spin the wheel whilst selecting bets and adds a touch of something different for superhero fans.
Not only is the roulette game themed with superhero greats such as Iron Man, Spider-Man, Thor and Wolverine, but there are added features and bonuses that enhance roulette gameplay.
Exclusive Marvel Bonus Feature
Marvel roulette is host to the Marvel bonus feature whereby players can bet on the Marvel Bonus position. When the roulette ball stops on the bonus position you are taken to the exclusive Marvel Bonus round.
The bonus is a 3 reel slot machine game that uses the bet that was placed on the position in the main game.
The idea behind the Marvel Bonus is to spin and match 3 Marvel symbols together. All players get 3 spins in the bonus round to increase chances of winning more. To take part in the bonus round simply click the Spin button to spin the reels.
Marvel Mystery Jackpot
Marvel Roulette makes use of the Marvel Mystery Jackpot, which is a cross-game progressive jackpot that is available on all Marvel themed games.
Being progressive means that a small %age of each players' bets is added to the progressive jackpot 'pot' by every player no matter which casino the game is played at.
Marvel Roulette Racetrack
The Racetrack function that is available in-game allows players to place bets such as Neighbour bets, Tier bets and more.